Dining Room Tiles in Ireland
Yes, you can certainly put tiles in a dining room. Using tiles for your dining room flooring or as a decorative element on the walls or even the dining table itself can be a practical and aesthetically pleasing choice. Here are some considerations:
Durability: Tiles are known for their durability, making them a great choice for high-traffic areas like dining rooms. They are resistant to scratches, stains, and wear and tear, which is important in a space where chairs may be moved around frequently.
Easy Maintenance: Tiles are relatively easy to clean and maintain, especially if they are glazed or sealed properly. Spills and stains can be wiped up easily.
Design Options: Tiles come in a wide variety of colors, patterns, shapes, and sizes. You can choose from traditional ceramic or porcelain tiles, natural stone tiles like marble or slate, or even more modern options like large-format tiles. This allows you to create the desired aesthetic for your dining room.
Allergen-Friendly: Tiles do not trap allergens like carpet can, making them a good option for individuals with allergies.
Underfloor Heating: If you live in a colder climate and want to keep your dining room warm, you can consider installing underfloor heating beneath the tiles for added comfort.
Acoustic Considerations: Keep in mind that tiles can be noisy, especially if you have a large, open dining area. You may want to use area rugs or other soft furnishings to help absorb sound and reduce echoes.
Choosing Tiles for your Dining Room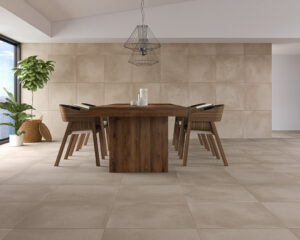 When choosing tiles for your dining room, consider the overall style and design of the room, as well as your personal preferences. You can opt for a classic, elegant look with marble or porcelain tiles, or go for a more rustic feel with natural stone or terracotta tiles. Additionally, you can use tiles to create decorative patterns or borders to add visual interest to the space.
Ultimately, the decision to use tiles in your dining room will depend on your aesthetic preferences, budget, and how well they complement the overall design and function of the room.
Why Choose Ceramic City
Ceramic City is Ireland's Leading  Supplier of the following: Floor tiles, Wall tiles, Porcelain tiles, Outdoor tiles, Large format tiles, Polished tiles, Matt finish tiles, Rectified tiles, Patio tiles, Ceramic tiles, Mosaic tiles, Antislip tiles, Pattern tiles, Stone look tiles, Marble look tiles, Concrete look tiles, Cement look tiles, Coloured tiles, Ptv tested tiles, Baths, Showers, Wetrooms, Jackoboard.  We are also a leading Tile Distributor in Ireland and Northern Ireland.
Contact us at any of our three showrooms based in Charlestown, Castlebar, and Sligo, or email info@cermaiccity.ie