The Timeless Elegance of Marble Tiles: Elevate Your Home with Luxury and Durability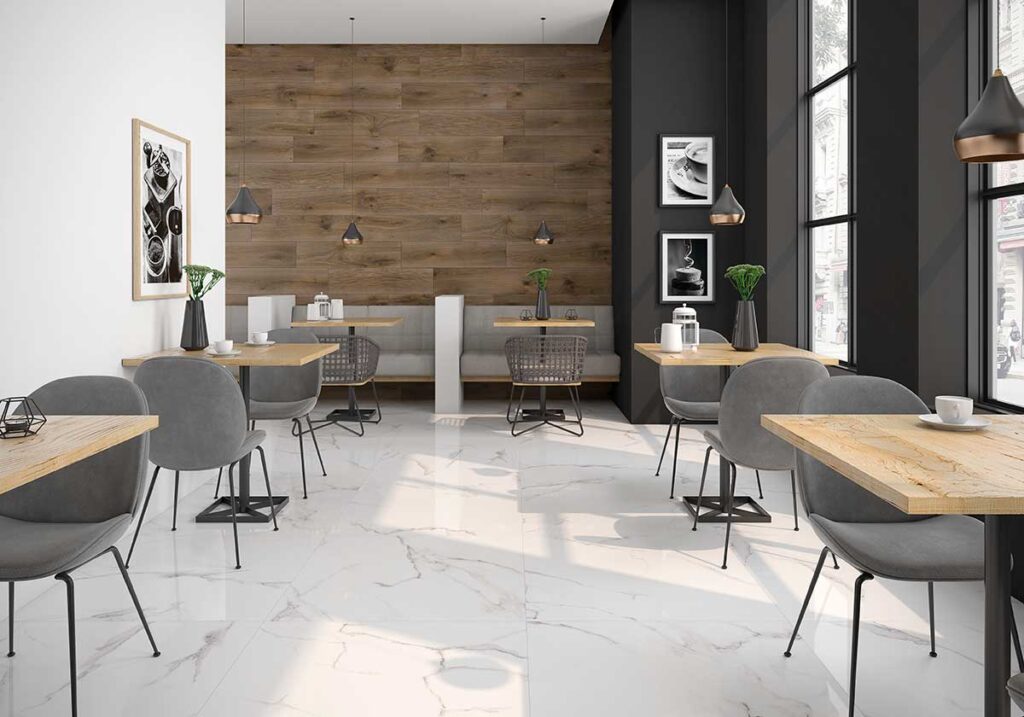 ‍Marble tiles have long been cherished for their timeless beauty and unparalleled durability. Whether you're aiming for a classic design that never goes out of style or looking to add a touch of luxury to your home, marble tiles are the perfect choice. In this comprehensive guide, we will explore the myriad benefits and design options offered by marble tiles. From their durability and hardness to their water resistance and unique natural patterns, marble tiles bring a touch of elegance and sophistication to any space.
Why Choose Marble Tiles?
Marble tiles offer a plethora of practical benefits that are complemented by their natural beauty. Here are some compelling reasons why marble tiles are an excellent choice for your home renovation project:
1. Durability
Marble tiles are crafted from natural stone, making them incredibly durable and long-lasting. They can withstand the test of time, even in high-traffic areas of your home. With proper care and maintenance, marble tiles can last a lifetime, ensuring that your investment pays off in the long run.
2. Hardness
Marble is renowned for its exceptional hardness, making it resistant to impacts, cracks, chips, and scratches. This durability ensures that your marble tiles will retain their pristine appearance even in the face of everyday wear and tear.
3. Water Resistance
While marble tiles are not entirely non-porous, they can repel moisture and stains with the right sealing and upkeep. This water resistance makes them an ideal choice for bathrooms, kitchens, and other areas prone to spills and humidity.
4. Uniqueness
Each marble tile is a unique work of art, hewn from large quarried sheets. No two marble tiles are ever the same, with variations in shade, veining, and patterns. This uniqueness adds a touch of individuality and exclusivity to your space, ensuring that your marble tiles are truly one-of-a-kind.
5. 100% Natural and Sustainable
Marble is an all-natural building material, making it an eco-friendly option for your home design. Its longevity and timeless appeal contribute to sustainable living, reducing the need for frequent replacements and minimizing waste.
6. Evergreen Beauty
Marble tiles have been adorning floors and walls in opulent buildings for centuries. Their natural beauty and elegance have stood the test of time, making them as popular now as they were in ancient times. With marble tiles, you can infuse your home with a sense of timeless charm that will always be in vogue.
Marble Tiles in Colors, Shapes, and Sizes Galore
At Ceramic City, we offer an extensive collection of marble floor and wall tiles, boasting a wide range of colors, shapes, and sizes. This variety ensures that you can find the perfect marble tiles to suit your design preferences and elevate your space to new heights of elegance. Let's explore the options available:
Colors
Marble tiles are available in a stunning array of colors, allowing you to find the perfect hue to complement your home decor. Choose from the following color options:
Black: Add a touch of drama to your space with black marble tiles. Opt for striking natural black veins on a pale grey background or explore funky geometric designs for a contemporary twist.
Gold: Combining marble and gold hues creates the ultimate luxury interior finish. Embrace opulence with gold-tinged marble tiles that exude elegance.
Green: Create a soothing spa-like ambiance in your bathroom with green marble tiles. These tiles bring a sense of tranquility and serenity, perfect for walk-in showers and sink splashbacks.
Grey: Champion classic design with our wide range of grey marble floor and wall tiles. From pale grey to moody dark tones, these tiles offer versatility and timeless appeal.
Pink: Infuse your space with a warm and welcoming ambiance using soft pink marble wall tiles. These hues instantly evoke an elegant and sophisticated vibe.
Silver: Silver and marble make a winning combination for wall and floor tiles. Embrace timeless interiors with enviable style by incorporating silver-tinged marble tiles into your design.
White: Let your tiles speak for themselves with pure white marble tiles. Their clean and simple aesthetic adds a touch of understated elegance to any space.
Shapes
When it comes to shapes, Ceramic City offers a wide range of design options to suit every taste and style:
Hexagon: Bring classic marble into the 21st Century with funky hexagon-shaped tiles. These tiles add interest and texture to any room, creating a unique and contemporary look.
Herringbone: Instantly add charm and character to your floors with the timeless herringbone pattern. Marble herringbone tiles become a standout feature, enhancing the beauty of their natural patterns.
Fan: Inject an Art Deco vibe into your space with elegant and effortlessly stylish fan-shaped marble wall tiles. These tiles add a touch of vintage glamour that is impossible not to love.
Square: Keep things classic with our selection of square marble tiles. These tiles look equally at home on floors and walls, offering a versatile and timeless design option.
Rectangular: From dainty marble subway tiles for kitchen splashbacks to large-format tiles for shower floors and hallways, our range of rectangular marble tiles provides endless possibilities for your design.
Chevron: Play with patterns and enhance the aesthetic appeal of marble tiles by opting for chevron-shaped designs. Chevron marble tiles add a sense of movement and visual interest to your space.
Sizes
Ceramic City offers a variety of sizes to ensure that you find the perfect fit for your project. Choose from the following tile sizes:
| Size | Dimensions |
| --- | --- |
| 7.5cm x 30.5cm | |
| 29.8cm x 30.5cm | Mosaic sheet |
| 26.2cm x 43.1cm | Mosaic sheet |
| 30.5cm x 30.5cm | |
| 60cm x 60cm | |
| 60cm x 120cm | |
| 75cm x 75cm | |
With such a wide range of colors, shapes, and sizes available, Ceramic City ensures that you can find the perfect marble tiles to bring your design vision to life.
Marble Tiles for Walls and Floors
Marble tiles offer endless possibilities for elevating both your walls and floors. Let's explore how you can incorporate marble tiles into different areas of your home:
Bathroom
Define your own unique look by pairing marble bathroom tiles with industrial fixtures and fittings. This combination creates a striking aesthetic that pays homage to both old and new design trends. The natural beauty and texture of marble tiles add depth and character to your bathroom, creating a soothing and luxurious space. Opt for polished marble subway tiles for a nod to vintage style or experiment with mosaic patterns for a contemporary twist. With their robustness and wipe-clean surface, marble tiles make for hassle-free upkeep in a high-moisture environment.
Bedroom
Create a serene and inviting sleep space by incorporating the natural beauty and texture of marble tiles into your bedroom design. Marble tiles add depth and character to the room, especially when paired with other organic materials and earthy shades. Whether you opt for a marble accent wall or a marble floor, these tiles create a sense of luxury and sophistication. Combine marble tiles with plush furnishings, such as faux-fur and velvet, to create a cozy and sumptuous ambiance that you'll love coming home to.
Hallway
Make a grand entrance with marble floor tiles in your hallway. Whether you prefer a classic or contemporary decor style, marble tiles add a touch of elegance and luxury to your home's gateway. With their timeless appeal, marble floor tiles create a lasting impression on guests and set the tone for the rest of your home. Embrace classic designs with large marble tiles, or experiment with unique patterns and shapes to make a bold statement.
Kitchen
Transform your kitchen splashback into a stunning focal point with mosaic marble wall tiles. The versatility of marble tiles allows you to create a feature that reflects your personal style. Choose from a variety of shapes, sizes, and colors to achieve the perfect balance between beauty and practicality. Marble tiles not only add visual interest to your kitchen but also provide a durable and easy-to-clean surface. Whether you prefer a modern or traditional aesthetic, marble tiles will enhance the overall look and feel of your kitchen.
Living Room
Infuse your living room with a sense of grandeur by incorporating marble floor tiles into your design. Marble tiles exude timeless beauty and elegance, making them the perfect choice for creating a sophisticated space. Pair marble tiles with Grecian ornaments, hints of gold, and luxurious furnishings to create a truly opulent ambiance. Whether you opt for large-format marble tiles or a combination of different sizes, your living room will become a haven of style and luxury.
Buying Marble Tiles from Ceramic City
At Ceramic City, we understand the importance of a seamless and enjoyable tile-buying experience. We strive to make buying marble effect wall and floor tiles in Ireland quick, easy, and affordable. Our extensive range of marble-style tiles is available online, allowing you to explore and choose your desired tiles from the comfort of your own home. If you need any assistance or advice, our knowledgeable team members are always ready to help. Contact us today and let us help you find the perfect marble tiles to transform your home.
In conclusion, marble tiles offer a combination of timeless elegance, durability, and versatility that make them an exceptional choice for any home. From their unique natural patterns to their ability to elevate the aesthetic of any space, marble tiles truly stand the test of time. With a wide range of colors, shapes, and sizes available, Ceramic City ensures that you can find the perfect marble tiles to bring your design vision to life. Explore our collection and let the beauty of marble transform your home into a haven of luxury and style.