Unleash Luxury and Elegance with Onyx Effect Tiles
Onyx Effect Tiles
Are you searching for a way to elevate the aesthetics of your home and add a touch of opulence? Look no further than our exquisite collection of onyx effect tiles. Our range boasts a stunning selection of onyx-inspired designs, with a variety of sizes and ultra-realistic patterns. These tiles allow you to infuse the beauty of onyx into your home without breaking the bank. Whether you're revamping your kitchen, living room, or bathroom, our onyx effect porcelain wall and floor tiles are the perfect choice to create a sense of luxury in any space.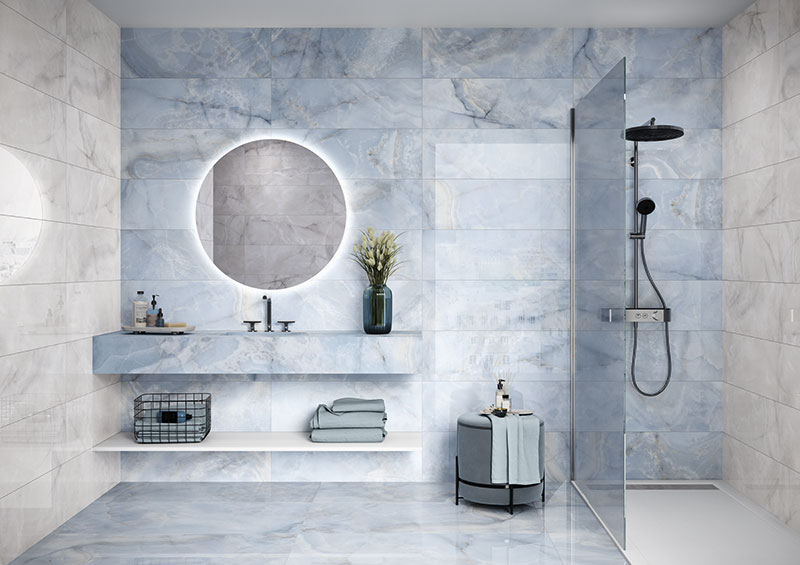 Understanding Onyx: Nature's Masterpiece
Before we delve into the benefits of onyx effect tiles, let's explore the origins of this captivating stone. Onyx is a form of chalcedony, a type of microcrystalline quartz. It is renowned for its parallel bands of vibrant colors, with each stone exhibiting unique variations. The name "onyx" is derived from the Greek word for "nail" or "claw," as lighter-colored varieties of onyx resemble a human fingernail.
Traditionally, onyx has been used in carvings, engravings, and jewelry-making due to its striking natural hues. However, as a tile material, onyx is not the most practical choice. It is relatively soft and fragile compared to other natural stones. That's why we offer a range of onyx effect tiles that replicate the extraordinary beauty of onyx while providing the durability and practicality of superior tile materials.
The Allure of Onyx Effect Tiles
Onyx effect tiles are synonymous with elegance and sophistication. With their mesmerizing veins and intricate detailing, these tiles showcase the unparalleled beauty of nature, bringing a touch of organic luxury to any interior. While onyx stone shares similarities with marble in terms of color and appearance, it can be more delicate and require additional maintenance. However, with our onyx effect porcelain tiles, you can enjoy the aesthetic appeal of onyx without the high maintenance.
Let's explore the myriad of benefits you can enjoy when incorporating onyx effect tiles into your home:
1. Durability that Withstands the Test of Time
Our onyx effect porcelain tiles are incredibly durable, making them resistant to scratches, stains, and impacts. These tiles are designed to endure everyday wear and tear, ensuring your walls and floors maintain their pristine appearance for years to come. Say goodbye to worrying about fragile onyx and hello to the longevity of our robust tiles.
2. Water-Resistance for Wet Areas
The low porosity of porcelain gives our onyx effect tiles outstanding water resistance, making them ideal for wet areas of your home like bathrooms and kitchens. These tiles provide excellent protection against moisture, ensuring their longevity and reducing the risk of water damage.
3. Low-Maintenance Beauty
Maintaining the beauty of our onyx effect tiles is a breeze. With their robust, glazed finish, these tiles are easy to clean and require minimal effort to keep them looking their best. A simple sweep and mop with regular cleaning agents are all you need to restore their lustrous appearance. Spend less time cleaning and more time enjoying the elegance of your home.
4. Versatility to Suit Your Style
Our onyx-look tiles offer a wide array of shades, sizes, and design effects, allowing you to create a unique look that aligns with your personal style. Whether you prefer a classic and timeless aesthetic or a bold and contemporary vibe, our versatile onyx effect tiles can bring your vision to life. The only challenge you'll face is deciding which color and style to choose!
5. Hygienic and Hypoallergenic Solution
Onyx effect tiles made from non-porous porcelain provide a hygienic design solution for your walls and floors. Unlike other materials that can harbor dirt and allergens, our tiles won't retain dirt, ensuring a cleaner and healthier living space. Say goodbye to sneezing fits and hello to a more hygienic environment for you and your loved ones.
6. Sustainable and Energy-Efficient Choice
Our onyx effect tiles are not only aesthetically pleasing but also environmentally friendly. The sustainable practices associated with modern porcelain tile manufacturing make our tiles an eco-conscious option for your home. Additionally, the thermal mass of porcelain onyx effect tiles helps regulate temperature, leading to potential energy savings and a more comfortable living environment.
7. Dreamy Designs to Ignite Your Imagination
Most importantly, our range of onyx effect tiles features a diverse selection of jaw-dropping designs that capture the beauty of this natural mineral. From classic white, gray, and beige to eye-catching blue, green, and pink, we offer onyx tiles in a spectrum of colors that will leave you awe-inspired. Let your imagination run wild and create a space that truly reflects your unique style and personality.
A Kaleidoscope of Onyx Tile Colors
Color is a crucial element in interior design, and when it comes to onyx effect tiles, the options are endless. Our collection offers a vast selection of hues that will help you achieve various decor styles and moods. Let's explore some of our popular onyx tile colors and their potential applications:
1. White Onyx: Clean and Classic
Create a clean and crisp ambiance with white onyx tiles on your walls and floors. Pair them with gray or black accents for a striking monochrome vibe in your kitchen, a space that exudes elegance and sophistication.
2. Gray Onyx: Timeless and Versatile
Gray onyx effect tiles come in a range of silvery hues and moody shades, making them a versatile choice for various interior styles. These tiles complement a wide range of accent colors, allowing you to achieve a timeless and sophisticated look.
3. Black Onyx: Glamorous and Dramatic
Transform your bathroom into a glamorous haven with black onyx tiles. These tiles add a touch of drama and elegance to your everyday bathing routine, creating a luxurious atmosphere that will leave you feeling pampered.
4. Green Onyx: Serene and Nature-Inspired
Bring the beauty of nature into your home with green onyx wall and floor tiles. These tiles create a soothing and serene space, establishing a strong connection with the natural world. Imagine stepping into a bathroom adorned with green onyx, evoking a sense of calmness and tranquility.
5. Brown Onyx: Classic and Warm
For those who appreciate classic decor styles, brown onyx effect porcelain tiles are the perfect choice. From pale beige to deep, earthy tones, these tiles exude warmth and timeless elegance. Pair them with gold or brass fixtures for a truly exquisite finish.
6. Pink Onyx: Elegant and Inviting
If you're looking to infuse elegance and warmth into your bathroom design, consider incorporating pink onyx wall tiles. These tiles add a touch of sophistication to any space and harmonize beautifully with a walk-in shower, glass screens, and brushed chrome finishes.
7. Blue Onyx: Calming and Tranquil
Draw inspiration from the vastness of the sky and ocean with blue onyx tiles. These tiles create a calming and tranquil atmosphere when used on walls or floors, allowing you to escape the hustle and bustle of everyday life. Create a space that promotes relaxation and rejuvenation.
A Perfect Finish for Every Style
To ensure your home update reflects your desired aesthetic, we offer a variety of different finishes for our onyx effect tiles. Choose the finish that best suits your style and desired ambiance:
1. Polished: Reflective and Luxurious
For a touch of luxury, opt for polished onyx tiles. These tiles have a shiny, light-reflecting surface that can make areas feel more spacious and brighter. Keep in mind that polished tiles may require more frequent cleaning to maintain their sleek and shiny appearance.
2. Diamond Glazed: Robust and Resilient
If you're looking for tiles that can withstand high-traffic areas of your home, our diamond glazed tiles are the perfect choice. These tiles feature a robust diamond glaze that minimizes the effects of daily wear and tear, ensuring their longevity and durability.
3. Matt: Contemporary and Textured
For a more contemporary and textured look, consider opting for onyx effect tiles with a matt finish. These tiles provide a duller surface that adds depth and texture to your walls and floors, accentuating the beautiful detailing of the tile design.
Size Matters: Choosing the Right Tile Dimensions
When selecting onyx effect tiles, it's essential to consider the size of the tile to achieve your desired design outcome. The size of the tile can dramatically impact the overall look and feel of a space. Let's explore the size options available in our onyx tile range:
1. 30cm x 90cm
2. 60cm x 60cm
3. 90cm x 90cm
4. 60cm x 120cm
Tailoring the size of your tiles to the specific area you're working with can create different visual effects. For instance, using large onyx wall tiles in a small space can create fewer grout lines, giving the illusion of a more expansive area. On the other hand, utilizing smaller tiles in larger areas can add character and visual interest to the space.
Styling Ideas: Where Onyx Tiles Shine
Now that you're familiar with the benefits, colors, finishes, and sizes of our onyx effect tiles, let's explore some styling ideas to ignite your imagination. These suggestions showcase the versatility of onyx tiles and their ability to transform any room in your home:
1. The Bathroom: A Glamorous Retreat
Give your bathroom a glamorous makeover inspired by the Art Deco movement. Incorporate onyx bathroom tiles to create a space that exudes elegance and sophistication. Pair these tiles with gold accents and luxurious fixtures to complete the look.
2. The Kitchen: Style Meets Practicality
Enhance the style and practicality of your kitchen with matt onyx floor tiles. The matt finish provides better grip underfoot, while the onyx detailing adds a touch of luxury that can mask everyday use. Achieve a harmonious balance between aesthetics and functionality.
3. The Living Room: Nature's Serenity
Create a relaxation sanctuary in your living room by utilizing soft gray onyx tiles on the floor. Pair them with a plush, soft pile rug and an abundance of soft furnishings to create a space that embraces nature's serenity. Indulge in comfort and tranquility.
4. The Hallway: A Warm Welcome
Impress your guests from the moment they step into your home by using rosy pink onyx effect floor tiles in your hallway. These tiles are perfect for high-traffic areas, offering effortless style without compromising practicality. Create a warm and inviting ambiance for all who enter.
Experience the Ceramic City Difference
At Ceramic City, we strive to make the process of buying onyx effect wall and floor tiles as quick, easy, and affordable as possible. Our extensive range of onyx-style tiles provides endless possibilities for transforming your home into a haven of luxury and elegance. Whether you need assistance or advice, our dedicated team is always here to help. Contact your local Ceramic City team member today and embark on a journey of exquisite design possibilities with our onyx effect tiles.
Unleash the beauty of onyx in your home with our stunning collection of onyx effect tiles. Experience luxury, durability, and style like never before. Let your imagination soar and create a space that reflects your unique personality and taste. Discover the Ceramic City difference today!