https://ceramiccity.ie/product-category/wall-tiles/outdoor-wall-tiles-2/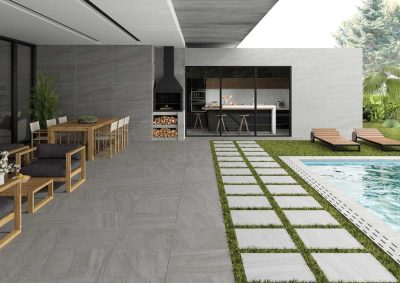 All Porcelain tiles are a brilliant choice when it comes to selecting your  outdoor tiles, there are lots of factors to consider but we have a list below of the important points for you to consider:
Durability
Outdoor tiles need to be able to withstand the Irish weather, as you know every season is possible and your outdoor tile will have to withstand rain, snow, and temperature changes often in one day. We at Ceramic City highly recommend only tiles that are made specifically for outdoor use, as they will be more durable and able to resist the effects of the Irish environment.
Slip Resistance
As Outdoor tiles are exposed to the elements they can become very slippery when wet, so it's important to choose tiles that have a good level of water resistance. We recommend tiles that have a textured surface or a matte finish, as these will provide protection for those using the tiles. If you are unsure simply contact us we will be delighted to assist you
Size and Shape
The size and shape of the tiles can have a big impact on the overall look of your outdoor space. Large tiles can make a space feel more open and modern, while smaller tiles can create a more traditional look. Consider the size of your outdoor area and the style you are going for when choosing your tiles.
Color and Pattern
For visual impact on the look of your outdoor space. We highly recommend neutral tones like gray or beige these can help to provide a clean modern and contemporary look, while contrast colors can introduce your personal style scheme preference. The size of your area also has to be considered. will lighter tiles give an impression of space in a smaller area and the opposite is often true of larger areas darker colors are often used.
Maintenance
Finally, consider the upkeep of the tiles you choose.  How often will you be able to clean them and does your lifestyle assist that?
Overall, when choosing outdoor tiles, it's important to consider durability, slip resistance, size and shape, color and pattern, and maintenance requirements to ensure you choose the right tiles for your space. We at Ceramic City are highly experienced and have provided tiles for large Industrial/Commercial and domestic environments so you are in safe hands.