Embrace Vintage Charm with Patterned Tiles for Your Home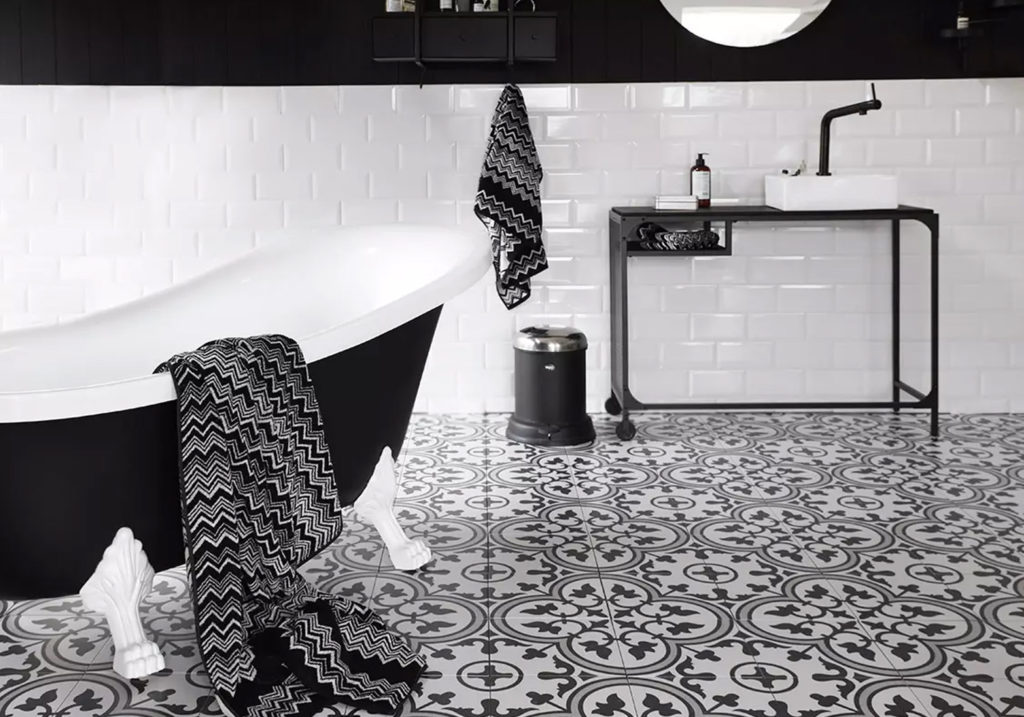 Patterned tiles have made a remarkable comeback in modern home design, offering a perfect balance between contemporary style and retro charm. Whether you're a die-hard fan of vintage aesthetics or simply want to inject a bit of colorful and playful patterns into your home, our range of patterned wall and floor tiles has got you covered.
A Brief History of Patterned Tiles
Patterned tiles have a rich heritage that dates back centuries. From the ornate cathedrals and palaces of medieval times to ancient Greece and the Roman Empire, patterned tile displays have been admired and cherished. However, it was during the Victorian era that patterned tiles reached the pinnacle of their popularity and accessibility.
The gothic revival movement of the Victorian era brought decorative pattern tiles to the forefront, with iconic designs like the Minton tiles. From black and white checkerboard floors to delicate fleur-de-lis and quatrefoil patterns, patterned tiles became a common feature in homes, adorning walls, floors, and fireplaces.
Today, patterned tiles come in a wide variety of shapes, sizes, and designs, making it easier than ever to embrace their characterful allure throughout your home. From vintage-style kitchen splashbacks to contemporary living room floors, there's a patterned tile to suit every room and every taste.
The Benefits of Patterned Tiles
Patterned tiles not only add visual appeal to your home but also offer practical perks that make them a wise choice for your next home update. Here are some of the positive benefits you'll find with patterned tiles:
Durability: Our patterned tiles are made from ceramic and porcelain, ensuring a hard-wearing material that can withstand heavy traffic areas.
Water and stain resistance: With a sealed top layer, our patterned tiles provide outstanding water, chemical, and stain resistance, making them perfect for areas prone to spills and splashes.
Hardness: The composition of our tile materials ensures they are incredibly strong and scratch-resistant, ensuring that the patterned designs stay intact.
Practicality: Patterned floor and wall tiles can help camouflage everyday wear in high-traffic areas like kitchens, bathrooms, and hallways, making dirt and surface dust less visible.
Low maintenance: With a glazed top layer, patterned wall and floor tiles are easy to clean. Splashes and stains can be easily wiped away, restoring the beauty of the tiles in no time.
Versatility: With a vast selection of patterned wall tiles available, you'll have limitless styling possibilities to create eye-catching designs throughout your home.
Exploring the World of Patterned Tiles
At Ceramic City, we offer an extensive range of patterned tiles, ensuring that you'll find the perfect tile to reflect your personal style and complement your home's aesthetic. Let's dive into the details of our diverse variety of patterned tiles:
Stripes
You can never go wrong with the classics, and striped pattern tiles make a simple yet stylish statement. Our collection features a range of patterned tiles with complementary stripe designs, from timeless black and white to unconventional color pairings. Whether you're looking to add cool lines to walls or floors, our striped pattern tiles are suitable for any room in the house.
Vintage
Embrace vintage style in your home with our array of traditional patterned tiles. Inspired by the intricate designs of the Victorian era, our vintage patterned tiles feature swirls, fleur-de-lis, quatrefoils, and more. From striking black and white patterns for the bathroom to colorful designs for kitchen splashbacks, our extensive choice of traditional Victorian-era tiles and encaustic-style tiles.
Geometric
If you prefer definitive shapes to intricate patterns, our geometric patterned tiles are perfect for you. Our range includes groovy retro styles and classic marble-effect designs that celebrate uniform geometric patterns. Let your creativity flow with our funky geometric patterned floor and wall tiles.
Fabric
For a modern look, experiment with patterned wall tiles that mimic the look of fabric. These tiles add texture and character to your walls, using geometric shapes and designs to create a contemporary finish.
Terrazzo
Bring texture and depth to your floors and walls with speckled terrazzo-effect patterned tiles. These tiles are perfect for achieving a modern industrial look when paired with pewter accents and wood elements.
Stars
Create a clever blend of old and new interior styles or add authenticity to your period property with pretty star pattern tiles. These tiles help you create striking floors and walls that will leave a lasting impression.
Patchwork
Make a bold statement with a mismatched patchwork tile design, featuring a variety of complementary patterned tiles. Whether used on a living room feature wall, kitchen splashback, or bathroom shower surround, these multicolored tile patterns create an eye-catching focal point.
Floral
Dainty flower patterns are perfect for feature walls and splashbacks, helping you make a style statement that's both pretty and elegant. A floral patterned tile design brings a taste of the natural world into your home, refreshing walls and floors with ease.
Mandala
Transform any room in your home with the captivating beauty of mandala patterned tiles. The mandala, an ancient geometric symbol representing spiritual development, adds intricate form and a kaleidoscopic color palette to walls or floors.
Graffiti
Bring urban art into your living space with dramatic graffiti patterned tiles. Inspired by the street art movement, these tile patterns incorporate vibrant designs, adding a punchy pop of color to walls. Achieve the ultimate industrial chic look by introducing our graffiti tiles to your home.
3D Effect
For an alluring textural finish, explore our embossed, 3D-effect patterned tiles. These tiles bring an instant sense of depth and dynamism to any surface, making them perfect for eye-catching feature walls.
Global Influences
If you love interior styles from around the world, our eclectic range of patterned tiles inspired by various cultures will provide you with endless ideas on how to bring charm and character into your home.
Choosing the Perfect Patterned Tile
When selecting patterned tiles for your home, it's essential to consider the right material and finish to achieve the desired result. Here are the various finishes available in our patterned tile range:
Porcelain
Incredibly hard and durable, porcelain patterned tiles are an ideal choice for high-traffic and wet areas of the home. Their strength and water-repelling properties make them perfect for any design you choose.
Ceramic
Slightly more porous than porcelain, ceramic tiles are still a solid choice for walls and floors. They come in a variety of designs and finishes, allowing you to find the perfect fit for your project.
Polished
With a shiny finish that reflects light, polished pattern tiles are easy to clean and ideal for poorly lit spaces. They add a touch of elegance and sophistication to any room.
Matt
Featuring a duller finish, matt patterned wall and floor tiles deliver texture and depth, providing good grip underfoot. They create a warm and inviting atmosphere in your home.
Metallic
Pattern tiles with a metallic sheen up the ante on texture, making them ideal for industrial aesthetics. These tiles add a touch of modernity and sophistication to any space.
Wood
Bring the beauty of the natural world into your home with our wood-effect patterned tiles. From rustic-style wooden kitchen floors to wood panel walls, these tiles allow you to incorporate organic patterns like wood grain effortlessly.
Natural Stone
Marble-patterned wall tiles can add interest to any room. With realistic natural stone veins and coloring, our marble-look tiles are guaranteed to be an eye-catching and timeless feature.
Antique
For added authenticity, some of our patterned tiles come with antique finishes, giving them an aged appearance. These tiles are perfect for creating an authentic Victorian-inspired interior update.
Exploring the Color Palette
Color plays a crucial role in interior design, and our range of patterned tiles offers a wide variety of options to suit your personal taste and style. Whether you prefer monochrome interiors or vibrant hues, we have the perfect color options for you. Here are some popular pattern tile color choices:
Black: Classic black and white checks or intricate geometric designs create a timeless monochrome aesthetic.
Blue: Choose from soothing pale blues to dark, moody shades to add a touch of serenity or drama to your space.
Brown: Earthy brown and beige tones create a rustic ambiance, perfect for period properties or rustic interior themes.
Green: Bring nature indoors with green patterned tiles, ranging from deep bottle green to subtle olive shades.
Grey: Versatile and timeless, grey patterned tiles blend seamlessly with both modern and classic design styles.
Pink: Add a touch of sophistication and elegance with pretty pink patterned tiles on floors or walls.
Red: Inject warmth and drama into your interiors with red patterned tiles that demand attention.
White: Use white pattern tiles as a base for endless design possibilities, providing a clean and fresh backdrop.
Yellow: Give your home a sunny and exotic feel with yellow patterned wall tiles that brighten up any space.
Patterned Tiles for Every Room
Patterned tiles are incredibly versatile and can transform any room in your home into a patterned paradise. Here are some ideas on how and where to use patterned tiles:
The Kitchen
Patterned kitchen tiles, whether on walls or floors, can help you emulate various styles, from classic Victorian kitchens with monochrome patterns to warm and inviting Grecian-inspired spaces with terracotta-colored tiles. Let your creativity flow in the heart of your home.
The Bathroom
Make a statement in your bathroom with patterned tiles. Whether you use them for sink splashbacks, shower walls, bath surrounds, or even bath panels, patterned wall tiles add longevity and visual appeal to the space. Choose from a variety of colors and designs to create a unique and luxurious bathroom.
The Living Room
Why limit patterned tiles to the kitchen and bathroom? Extend your pattern prowess to your living spaces as well. Opt for contemporary geometric designs that frame the entire room or create a focal point with a carefully placed patterned rug. Let your living room reflect your unique style and personality.
The Bedroom
Transform your bedroom into a peaceful oasis with classically styled patterned tiles. Our vintage tile collection features ornate detailing and calming colors, creating a restful ambiance for a good night's sleep. Let patterned tiles add a touch of elegance to your personal sanctuary.
The Hallway
Make a grand entrance with patterned tiles in your hallway. Whether you have a period property or a modern home, patterned tiles can create an authentic Victorian-style hallway or add personality to any space. They also help hide dirt and scuffs, making maintenance a breeze.
The Open-Plan Room
Use patterned floor tiles to define separate zones within your open-plan living spaces. Hexagonal tiles in the kitchen and wood-effect floor tiles in the living area can visually separate the spaces while maintaining a cohesive design. Create interesting features and add depth to your floors with patterned tile rugs.
Why Choose Ceramic City for Patterned Tiles
At Ceramic City, we pride ourselves on offering an impressive selection of premium patterned tiles. With over five decades of experience in the tile industry, we source the best products from leading suppliers across Europe to provide competitive prices on premium tiles and tiling accessories.
Our range of patterned tiles ensures that you'll find jaw-dropping designs that effortlessly complement your existing theme or create a sumptuous centerpiece in any room. Browse our beautiful collections of patterned tiles today and take advantage of our expertise to find the perfect tile for your home.
Not sure about the perfect color scheme for your patterned tiles? Request a sample from a member of our team to help you make the right choice.
Visit Ceramic City Today
Discover the endless possibilities of patterned tiles by visiting our Ceramic City stores located at Castlebar, Charlestown, and Sligo. For more information, email us at info@ceramiccity.ie or call 094 90 24250. Let us help you transform your home into a haven of style and beauty with our exquisite patterned tiles.