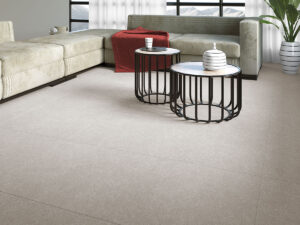 Terrazzo tiles are a popular choice for homeowners looking to add a touch of sophistication and style to their interiors. With their striking patterns and beautiful speckled design, terrazzo tiles have the ability to transform any room into a timeless masterpiece. In this article, we will explore the benefits and versatility of terrazzo effect tiles, as well as provide inspiration on how to incorporate them into your home.
Visit our range Terrazzo Range here
Why Choose Terrazzo Effect Tiles?
While genuine terrazzo tiles can be costly and labor-intensive to install, terrazzo effect tiles offer a more affordable and hassle-free alternative. These tiles combine the practical properties of modern porcelain tiles with the beauty and elegance of genuine terrazzo, making them an ideal choice for homeowners looking to achieve the terrazzo look without breaking the bank. Let's delve into the benefits of terrazzo effect tiles:
1. Durability
Terrazzo effect floor tiles are made from hard porcelain, ensuring exceptional durability to handle everyday wear and tear. They can withstand scratches, impacts, and stains, making them suitable for high-footfall areas such as kitchens and hallways. These tiles are built to last, providing long-lasting beauty and functionality to your home.
2. Water Resistance
The dense porcelain core of terrazzo effect tiles makes them virtually waterproof. This makes them an excellent choice for protecting walls and floors against moisture in areas like bathrooms and kitchens. Additionally, their water resistance makes them suitable for outdoor use, allowing you to create a seamless flow between your indoor and outdoor spaces.
3. Easy-to-Clean Finish
Maintaining the beauty of your terrazzo-style tiles is a breeze. With no specialist cleaning methods required, a regular sweep and mop are all you need to keep them looking their best. This low-maintenance feature is perfect for busy households or those who prefer to spend less time on cleaning chores.
4. Versatility
Terrazzo effect tiles come in a variety of colors, sizes, and finishes, offering countless styling options for almost any room in your home. Whether you prefer a classic beige, a dramatic black, or a calming blue, there is a terrazzo tile that will suit your aesthetic preferences. The versatility of these tiles allows you to create a personalized and unique look for your interiors.
Terrazzo Effect Tile Color Options
When it comes to choosing the perfect terrazzo effect tile for your home, Ceramic City offers a wide range of color options to suit every taste and style. Here are some of the color options available:
Beige
For a classic and cozy look, beige terrazzo-style tiles are an excellent choice. These tiles can be used on both floors and walls, adding warmth and sophistication to any space.
Black
If you're looking to make a bold statement, black terrazzo effect tiles with mixed colors can add a touch of drama to your interiors. These tiles are perfect for creating a modern and edgy look.
Blue
Create a cool and modern vibe with tranquil blue terrazzo effect tiles. These tiles are ideal for adding a splash of color and personality to your home.
Green
Minty green tones in terrazzo effect tiles bring a calming feel to any space. They are particularly well-suited for bathrooms, creating a serene and relaxing atmosphere.
Grey
From pale grey to moody tones, terrazzo tiles in shades of grey are a timeless choice. These tiles can effortlessly complement any interior style, staying on trend for years to come.
Pink
Add a touch of elegance to your home with pink terrazzo-style tiles. These tiles are perfect for creating a sophisticated and glamorous look in bathrooms, kitchens, and more.
White
For a clean and simple decor style, white terrazzo effect tiles offer endless possibilities. From crisp white to cream and off-white shades, these tiles can brighten up any space.
With such a wide range of color options available, you can find the perfect terrazzo effect tiles to complete your home interior project.
Terrazzo Effect Tile Designs
Terrazzo effect tiles come in various design options, allowing you to create a unique and personalized look for your home. Here are some of the design options to consider:
Square
Classic square terrazzo tiles are perfect for creating uniform floors and walls. They can be laid in a grid or staggered formation, adding a sense of order and symmetry to your interiors.
Rectangular
For a modern and contemporary finish, opt for large rectangular terrazzo tiles. These tiles can be laid in vertical or horizontal grid patterns, creating a sleek and sophisticated look.
Mosaics
If you're looking to add texture and depth to your interiors, consider using terrazzo effect mosaic tiles. These tiles feature stunning terrazzo patterns, adding visual interest and a touch of luxury to any space.
Chunky Flecks
Go big and bold with your terrazzo effect tile designs by choosing tiles with large, chunky flecks. These tiles make a statement and add a unique and eye-catching element to your interiors.
Small Flecks
For a more understated terrazzo style, opt for tiles with modestly sized speckles. These tiles offer a more subtle and refined look while still capturing the essence of terrazzo.
Patterns
Combine the signature terrazzo flecks with pretty patterns to create truly eye-catching interiors. Whether you choose geometric patterns or floral motifs, these tiles will add a touch of artistry and creativity to your home.
Terrazzo Tiles for Walls and Floors
The versatility of terrazzo effect tiles extends to their application on both walls and floors. Whether you want to add interest to your floors or create a stylish feature wall, terrazzo tiles can elevate the look of any room. Let's explore how you can use terrazzo-style tiles to best effect:
Terrazzo Wall Tiles
Thanks to their excellent water resistance, terrazzo effect tiles are perfect for use on walls, especially in moisture-prone areas such as kitchens and bathrooms. A terrazzo splashback in the kitchen not only protects the walls from moisture and dirt but also adds a stylish and unique element to the space. In the bathroom, terrazzo wall tiles can be used to create a practical and visually stunning shower surround, combining the striking pattern of terrazzo with the waterproofing properties of porcelain.
Terrazzo Floor Tiles
Terrazzo-style tiles made from hardwearing porcelain are an excellent choice for durable flooring options. Often, floors can be an afterthought in interior design, but with terrazzo floor tiles, they can become the focal point of any room. The mixed-color terrazzo designs on these tiles add visual interest and create a sense of luxury. Porcelain's non-porous composition and resistance to scratches, stains, and impacts make terrazzo floor tiles suitable for use in living rooms, bedrooms, hallways, kitchens, and bathrooms. They offer both style and practicality, making them an ideal choice for high-traffic areas.
Terrazzo Effect Tile Style Ideas for Every Room
The beauty of terrazzo effect tiles lies in their versatility, which allows them to be used in almost any room in your home. Here are a few style ideas to inspire you:
The Bathroom
Create an industrial chic vibe in your bathroom by pairing terrazzo-style tiles with black or pewter fixtures and fittings. The combination of the striking terrazzo pattern and the sleek, modern fixtures will transform your bathroom into a stylish retreat.
The Kitchen
For a cohesive and stylish look in your kitchen, use terrazzo-style tiles on both the floors and walls. Set them against all-white cabinets with a matte finish to create a clean and contemporary aesthetic. The terrazzo tiles will add texture and visual interest to the space, making your kitchen a focal point for both cooking and entertaining.
The Living Room
To create a cozy and inviting living room, opt for soft and soothing grey terrazzo-style floor tiles. These tiles can be beautifully complemented with wooden accents and cream furnishings, adding warmth and elegance to your space. The combination of natural materials and the timeless beauty of terrazzo will create a relaxing atmosphere for you and your guests to enjoy.
The Garden
Extend the beauty of terrazzo tiles to your outdoor spaces by using terrazzo effect wall tiles on your patio or outdoor walls. Pair them with plenty of greenery to create a tranquil and stylish outdoor oasis. The combination of the terrazzo tiles and the natural elements of your garden will enhance the overall aesthetic of your outdoor space.
Buying Terrazzo Effect Tiles from Ceramic City
At Ceramic City, we strive to make the process of buying terrazzo effect wall and floor tiles as quick, easy, and affordable as possible. With our wide range of terrazzo-style tiles, you can find the perfect option to suit your style and budget. Whether you're looking for a classic beige, a dramatic black, or a calming blue, we have the right tiles for you. Our terrazzo effect tiles combine beauty, durability, and practicality, allowing you to create your dream home interior effortlessly.
If you need any assistance or have any questions, our knowledgeable team members are always here to help. Contact us to find out more about our terrazzo effect tiles and how they can enhance the beauty of your home.
So why wait? Explore our full range of terrazzo style tiles online now and start transforming your home into a timeless masterpiece!