Onix tile, also known as Onyx tile, is a type of tile made to mimic the appearance of natural Onyx stone. Onyx is a semi-precious stone known for its striking and often translucent appearance, characterized by intricate veining and a variety of colors, including shades of white, beige, green, and brown. However, natural Onyx can be expensive and relatively fragile, making it less practical for use in high-traffic areas.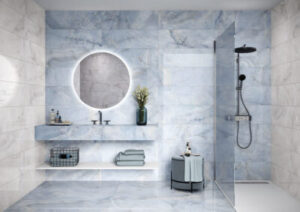 Onix tiles are manufactured from materials such as porcelain or ceramic and are designed to replicate the visual appeal of natural Onyx. These tiles typically feature high-quality printing technology that reproduces the distinctive veining and color variations found in real Onyx. They offer a more cost-effective and durable alternative to using natural stone, making them suitable for a wide range of interior design applications.
Onix tiles can be used for various purposes, including:
Flooring: They can be installed as floor tiles in homes, hotels, and commercial spaces, adding a touch of elegance and luxury to the interior.
Wall Cladding: Onix tiles can be used for wall applications, such as in bathrooms, kitchens, and feature walls, to create a visually appealing and unique design element.
Backsplashes: They are often used as backsplash tiles in kitchens and bathrooms to create a stunning focal point.
Onix tiles come in various sizes, finishes, and color options, allowing for a wide range of design possibilities. When considering Onix tiles for your project, it's essential to choose the right size, finish, and color that best suits your design goals and the specific application. Additionally, it's a good idea to consult with a tile professional or supplier for advice on installation and care, as proper installation and maintenance can help ensure the longevity and beauty of your Onix tile surfaces.
Why Choose Ceramic City
Ceramic City is Ireland's Leading  Supplier of the following: Floor tiles, Wall tiles, Porcelain tiles, Outdoor tiles, Large format tiles, Polished tiles, Matt finish tiles, Rectified tiles, Patio tiles, Ceramic tiles, Mosaic tiles, Antislip tiles, Pattern tiles, Stone look tiles, Marble look tiles, Concrete look tiles, Cement look tiles, Coloured tiles, Ptv tested tiles, Baths, Showers, Wetrooms, Jackoboard.  We are also a leading Tile Distributor in Ireland and Northern Ireland.
Contact us at any of our three showrooms based in Charlestown, Castlebar, and Sligo, or email info@cermaiccity.ie