Wood Effect Tiles: The Perfect Blend of Style and Durability
‍When it comes to flooring options, the durability of tiles and the natural beauty of wood have always been in high demand. But what if you could have the best of both worlds? Enter wood effect tiles, the perfect solution for those who want the look of real wood floors without maintenance and limitations. View our extensive range here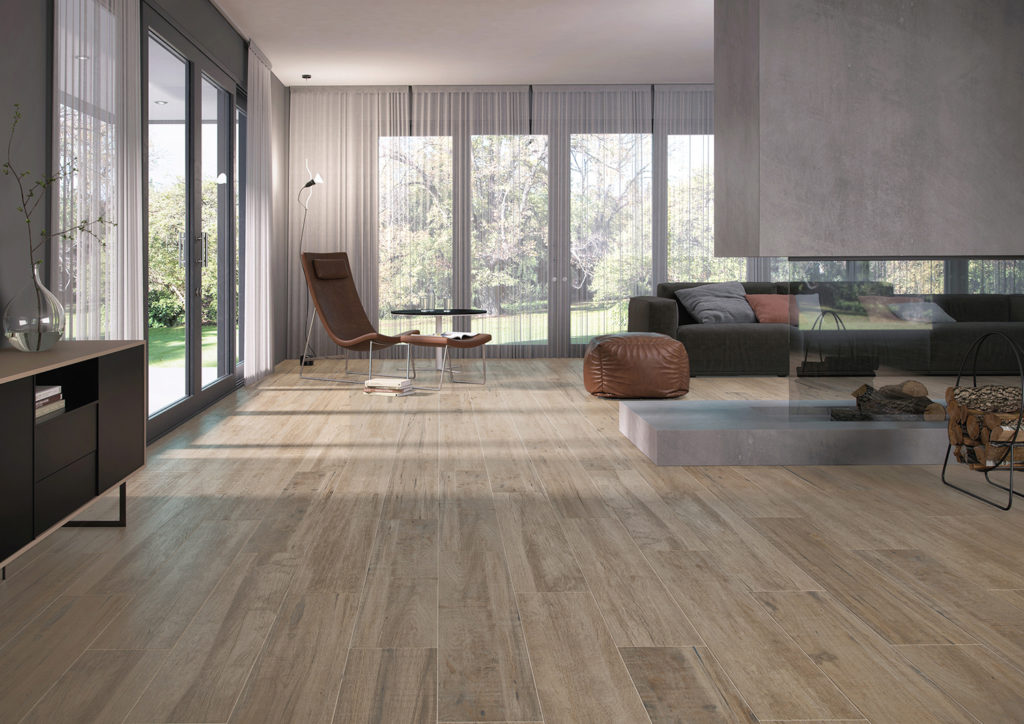 Why Choose Wood Effect Tiles?
Wood effect tiles offer a range of advantages over real wood floors. While natural wood is known for its cozy and warm effect, it requires regular maintenance and can be prone to damage. Wood effect tiles, on the other hand, combine the appearance of natural wood with the durability of modern tiling options. They are highly resistant to water, scratches, and stains, making them suitable for wet areas like bathrooms and kitchens. Additionally, wood effect tiles are incredibly durable, making them ideal for high-footfall areas of the house such as hallways and porches.
Another advantage of wood effect tiles is their ultra-realistic finishes. Unlike natural wood floors, which are susceptible to water damage, wood effect tiles can incorporate natural textures and beauty into wet areas like bathrooms. Whether you prefer a distressed wood-clad bathroom for a homely, rustic feel or a highly polished finish for a touch of luxury, wood effect tiles make it possible.
One of the most compelling reasons to choose wood effect tiles is their cost-effectiveness. Contrary to popular belief, wood effect tiles are not a lowly substitute for the real thing. With their uniquely printed design and textured finish, it can be difficult to distinguish wood-look tiles from real wood. Furthermore, wood effect tiles are more durable and easier to maintain than wood or laminate, offering a long-lasting and budget-friendly option for home updates.
Wood Effect Tile Material Options
At Ceramic City, we offer a wide range of wood effect tiles made from quality materials. Our collection includes ceramic and porcelain wood effect tiles, each with its own unique properties and advantages. Ceramic wood effect tiles deliver outstanding durability, water resistance, and strength, making them practical for busy areas of the home such as bathrooms, hallways, and kitchens. Porcelain wood effect tiles have a slight edge over ceramic tiles in terms of strength and water resistance, making them a better choice for very wet areas like wetrooms, bathrooms, and kitchens.
When it comes to finishes, we have a variety of options to suit your personal style and practical needs. If you prefer an understated and contemporary interior, our matt wood effect wall tiles are the way to go. Their dull, flat surface creates texture and is less prone to visible marks. For traditional interiors, polished wood effect tiles reflect light off their shiny surface, giving living spaces a refined and sleek feel. We also offer anti-slip wood-look tiles for added safety in busy, wet areas of the home. If you're looking to add character and charm to your floors and walls, our distressed wood effect tiles mimic the look of aged wood. And for those who love the shabby chic or rugged industrial style, our painted wood effect floor tiles are the ideal touch.
Authentic Wood Effect Tile Colors
Our wood effect tiles come in an array of different shades, allowing you to find the perfect color to complement your home's decor. From luxurious and alluring dark black tiles to soft and soothing creamy tiles, our collection offers endless possibilities. Shades of brown, ranging from soft pale beige to rich dark tones, cater to every taste and decor style. If you prefer a timeless and sleek finish, our grey wood-look tiles are available in various shades from pale grey to dark, brooding hues. For a clean and crisp color palette, our white wood effect tiles create the shabby chic or beach house look. And for those who want to add a playful and layered pattern to their floors, we offer wood effect tile designs that use multiple colors like bright blue, yellow, and red.
Wood-look Tile Finish Options
At Ceramic City, we understand that everyone has their own unique style. That's why our wood effect tiles expertly mimic a range of timber and wood stains, offering endless styling possibilities. Whether you're going for a rustic-chic look, a raw industrial approach, or a classic country style, our wood effect tiles can be adapted to suit any interior design style.
Our wood effect tile finishes include ash, oak, birch, beech, cherry, maple, and walnut. Ash wood effect tiles offer a blend of pale and interesting hues, perfect for a contemporary look. Oak-style floors can be achieved with a variety of options, from pale white oak for a soft, rustic feel to gloss-finished tiles that capture deeper oak hues for a more traditional look. Birch wood effect tiles replicate the pale shades commonly found in Scandinavian design, while beech tiles beautifully replicate its soft hues and delicate grains. Cherry wood effect tiles bring warmth and a touch of luxury to any space, while maple tiles provide a subtle warmth and texture. Finally, walnut wood effect tiles add drama and luxury, making a bold statement in any room.
Wood Effect Tile Sizes and Shapes
At Ceramic City, we offer a wide range of tile sizes and shapes to suit any preference. Whether you prefer the look of large, singular floorboards or an eclectic patchwork with a distressed finish, we have the perfect option for you.
Our rectangular wood effect floor and wall tiles are designed to look like floorboards, with sizes ranging from 8cm x 40cm to 30cm x 120cm. If you're looking for pretty patterns, our wood-look chevron tiles come in 8cm x 40cm sheets, allowing you to create intricate designs or striking patterns. For classic parquet wood designs, our mini herringbone wood effect mosaic tiles are the perfect choice. And if simplicity is your style, our square format tiles with a wood-style finish offer exceptional style and character.
Wood Effect Tiles for Walls and Floors
Wood effect tiles are not only suited to floors but also perfect for walls. With their near-endless versatility, wood effect tiles can be used to create stylish and low-maintenance kitchen splashbacks, elegant feature walls, and more. Effortlessly channeling the Scandi aesthetic, wood effect tiles bring the look of real wood to walls without the associated wear and tear.
Wood effect wall tiles are ideal for everything from stylish kitchen splashbacks to elegant neutral feature walls. They come in a range of colors, including classic oak, warm cedar, and cool ash, allowing you to achieve the look of real wood with ease. Wood effect floor tiles, on the other hand, are a match made in heaven. Combining the beauty of hardwood with the low-maintenance properties of ceramic and porcelain, wood effect floor tiles are practical and stylish. Whether you prefer a rustic country aesthetic, Scandi style, or minimalist monochrome, wood effect floors never go out of style.
Wooden Floors for Every Room
With wood effect tiles, you have the opportunity to style out any room in your home. From living rooms and bedrooms to kitchens and bathrooms, wood effect tiles can bring the beauty and natural charm of wooden interiors to every corner of your space.
In living rooms, you can create stunning parquet floors with wood effect chevron or herringbone tiles. These intricate patterns add character and charm to any size living room or open-plan living-dining areas. In bedrooms, large format wood effect porcelain tiles offer a cool and contemporary distressed finish that complements neutral and earthy color schemes. The kitchen is the heart of the home, and with wood effect tiles like our Woodland range, you can bring a luxurious touch to your space. Whether you prefer dark walnut-colored floors for cutting-edge chic or cherry wood hues for a stately manor vibe, our gloss wood-look tiles will reflect light and create an effortlessly elegant ambiance. Bathrooms are another great space to incorporate wood effect tiles. Vintage wood effect tiles on floors and walls can instantly add character and charm, creating a natural aesthetic that is both beautiful and practical. Finally, in hallways, wood effect floor tiles with multicolored designs provide a vibrant alternative to traditional floorboards, adding texture and charm to the entrance of your home.
Wood Effect Tile Installation Guide
If you're a DIY enthusiast, you can install wood effect tiles yourself with a few simple steps. However, we always recommend consulting professional tilers for the best results.
Before you begin, measure the area where you plan to install the tiles. Accurate measurements are essential to ensure you order enough tiles, adhesive, and grout. Prepare the area by removing any bumps or obstructions on walls and ensuring the floor is clean and level. Create a design mockup to plan the layout and calculate the number of tile cuts needed. Once you're ready to install the tiles, mark the center point of the room and work logically out to each edge and corner. Use tile spacers to keep your lines straight and even. Once the adhesive is dry, apply grout to seal the joints and wipe away any residue with a sponge and clean water.
Buying Wood Effect Tiles with Ceramic City
At Ceramic City, we take pride in offering a wide range of high-quality wood effect tiles. Our tiles are sourced from trusted suppliers across Europe, ensuring you receive products you can rely on. We understand that choosing the right tiles for your home is a significant decision, and our experienced sales team is always available to help you make the best choice.
To explore our full range of wood effect floor and wall tiles, visit any of our Ceramic City showrooms. Seeing the realistic and durable wood finish in person will inspire you and help you plan your home makeover. Once you've found the perfect wood effect tiles, simply place your order, and we'll take care of the rest.
In conclusion, wood effect tiles offer the perfect blend of style and durability. With their realistic appearance, water resistance, and low maintenance, they are an excellent alternative to real wood floors. Whether you're looking to update your living room, bedroom, kitchen, bathroom, or hallway, wood effect tiles can transform any space into a beautiful and practical area. Visit Ceramic City today to discover the diverse range of styles, colors, and sizes we have in our collection and bring your home makeover visions to life.