Why choose porcelain floor tiles?
When it comes to tile flooring solutions,  Ceramic City Ireland has been in the floor tile industry since 1958
We have noticed that porcelain floor tiles take tile flooring to a whole new level. Porcelain is a manmade type of ceramic, making it perfect for floor tiles due to its outstanding durability, strength and huge design range of options.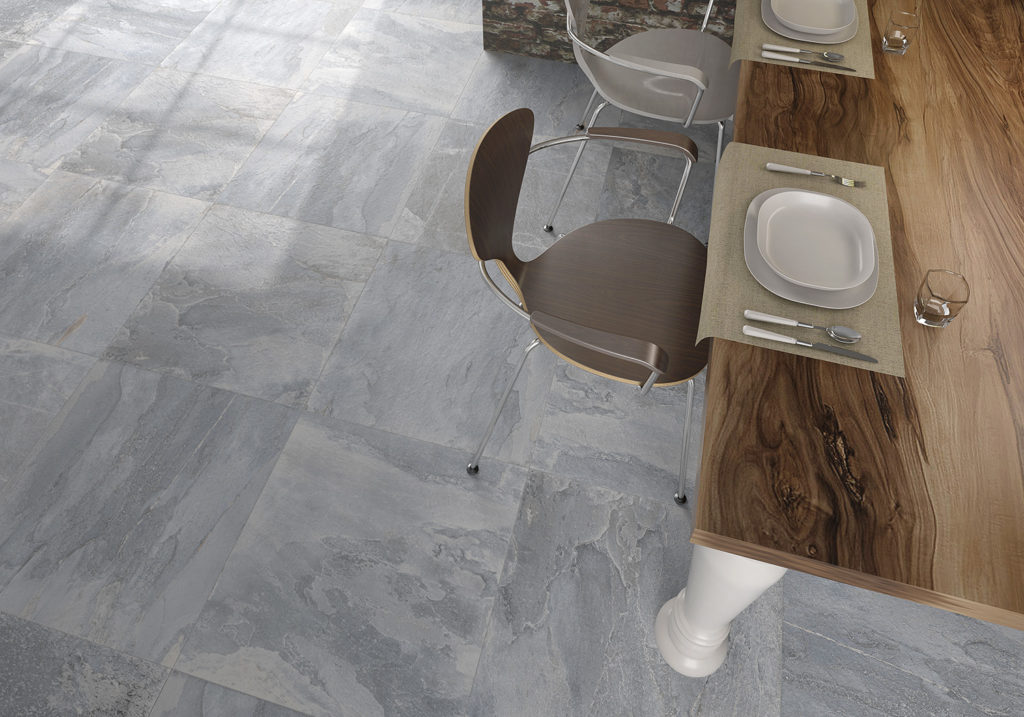 Amazing strength: with a manufacturing process that uses finer, denser clay and higher temperatures and pressure to produce tiles, porcelain floor tiles are harder and stronger than other types of ceramic. Paired with their excellent longevity, this goes towards making them a highly durable flooring option that's guaranteed to maintain its finish for years to come – even in high-footfall areas.
Incredible water and stain resistance: while porcelain floor tiles can be used throughout your home, areas like kitchens and bathrooms can definitely benefit more when it comes to coping with daily wear and tear. Porcelain tiles are incredibly dense, which makes them extremely resistant to water and a perfectly practical choice for floors in wet areas such as bathrooms. The material's density also makes it chemical and stain-resistant – perfect for protecting your kitchen floor against everyday spills and suchlike.
Allows for minimum maintenance:  porcelain tiles in your home could also save you when it comes to day-to-day care. Whether you choose matt non-slip floor tiles or a gloss or satin finish, all of our tiles are inbuilt with extremely low-maintenance properties – meaning a regular cleaning will allow your tiles to last longer and to look new longer.
Huge versatility: porcelain tiles also boast incredible versatility as a flooring solution, thanks to the huge variety of styles and colours available. From beautiful rustic kitchens with easy-clean wood-effect floors to luxury living rooms with porcelain marble floor tiles, porcelain tiles open the door to all kinds of styling possibilities, even if you're on a tight budget.
Porcelain floor tile colours, shapes, finishes and sizes
One of the biggest draws of our porcelain floor tiles range is the incredibly diverse choice of colours, sizes, finishes and shapes on offer. This means you're sure to find your dream porcelain floor tiles, regardless of what your personal specifications may be.
Multiple colour choices
Choosing a colour scheme is an important aspect in the overall look and feel of your home, so getting just the right colour and shade is a must. thankfully you will find a huge amount of colour options at your disposal in one of our three showrooms and our experienced and friendly staff will help you get the colour you desire.
For a cool and clean look, we advise light colours, this could be just what's needed. Choose from a vast array of bright white porcelain floor tiles or go for a softer look with creams, beiges, pale greys and so much more. All are guaranteed to deliver the look and finish you require, whichever shade you go for.
Alternatively, our friendly staff could recommend you use porcelain floor tiles to bring a touch of colour with bold and brash colours to the heart of your home. These could be something like elegant pastel shades like the very popular duck egg blue or why not choose vibrant colours like orange, red and yellow? Whatever colour theme you have in mind, we're sure to have a tile to match it.
If you want to lots of character and a unique look to your floors, this could be achieved using patterned porcelain floor tiles. We have a wide range of patterned options in colourful designs, as well as simple monochrome combinations.
At the other end of the colour scale, we have a huge selection of darker shades that may be more in keeping with the style you desire. We can provide everything from terracotta hues and dark grey stone-look porcelain floor tiles to single-colour and patterned black designs, as well as some terrazzo tile combinations.
Versatile shapes and sizes
At Ceramic City we know that the shape and size of your tiles matter too, so you'll find a comprehensive range of options to choose from.
For a classic tiled floor finish, why not choose a simple square tile? Ceramic City can supply tiles in sizes that range from compact 10cm x 10cm up to a massive 120cm x 120cm with numerous size combinations in between, including 30cm x 30cm and 60cm x 60cm, we know you'll find the right size square porcelain floor tiles for your home at Ceramic City.
Alternatively, a standard rectangle porcelain floor tile could be what's required. With dimensions starting as little as 5cm x 5cm and going all the way up to 150cm x 75cm, you can buy small or large porcelain floor tiles right here.
Regardless of the size you choose, they offer a slightly more modern look and can be installed in various design layouts. For instance, laid in a brick-lay style design vertically or horizontally, your floor tiles can help to elongate compact or narrow spaces. On the other hand, a grid layout delivers an effortlessly seamless finish that feels modern and chic.
Our choice of shapes doesn't stop there though. We also stock a comprehensive selection of unconventional porcelain floor tile shapes that includes many options like the very popular hexagon tiles, mosaic sheets and more.